Satisfyer Pro 2 Clitoral Stimulator
The new master of multiple-orgasms is here!
---
---
Treat your lady to wave after wave of earth shattering, mind blowing orgasms with the Satisfyer Pro 2 WATERPROOF clitoral stimulator! Engineered around an ultra-quiet yet powerful motor, she won't be able to wipe the smile off her face after her first experience with this amazing device – and you, naturally.
With its intensive pressure waves and tingling pulsation, the Satisfyer Pro 2 provides touch-free clitoral stimulation and thus an extra dose of pleasure to your lover, right where she needs it the most!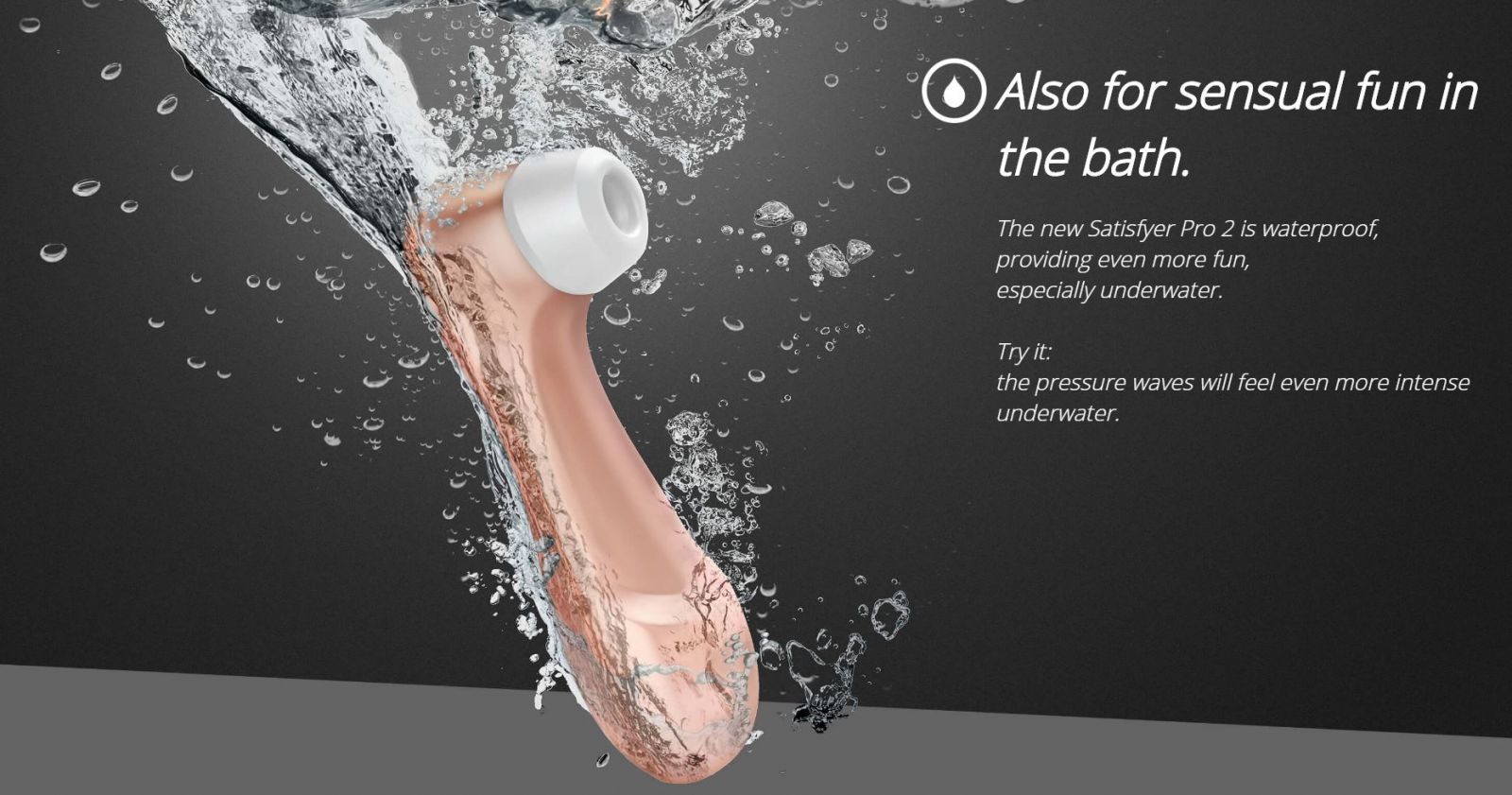 When used together as part of your love making, she will be putty in your hands, begging for you to continue shattering her world. For an ultra-rewarding experience, why not surprise her with this love toy in the throes of your next erotic session!

Why She'll Love It:
• Touch-free clitoral stimulation
• Waterproof design for exotic bath time
• 11 different programs built in
• Easy to use single button operation
• Easy to clean & store
• Unassuming design. Nobody will ever know!

Turn Her On – Step by step!
To turn the Satisfyer on, all you have to do is press the small button at the bottom for 2 seconds to activate the lowest massage setting. Wait for her "one raised eyebrow" expression.
Spread her labia apart a little to free her clitoris. With gentle pressure, place the oval head on the clit, making sure the head is situated comfortably in the hollow. Let her be your guide & listen for the "YES" noise. Trust us, you'll know when you're in the zone.
It's now time to start increasing the intensity, briefly press the larger oval button. Every time you press this button, it will increase the intensity by one level. There are 11 levels of intensity for you to choose from. Once you've reached level 11 you can gradually reduce the intensity again by pressing the larger oval button.
When she can take no more, the evidence of complete & utter release will begin, with wave after wave of erotic pleasure shattering her every fiber. Enjoy this moment with her, as there will be many more to come from now on.
The Satisfyer 2 Pro comes complete with everything you'll need to get started, including a magnetic USB charger to keep the built in Lithium Ion battery revved up and ready to go!
Satisfyer Pro 2 has been developed and designed in Germany
Naughty Boy is proud to present the Satisfyer Pro 2 USB Clitoral Stimulator! (You can thank us later.)
Post
Add a comment / review or question. We read everything!
inevitable orgasm

(5)

By: Eric on 10 June 2018

This Satisfyer Pro 2 is absolutely the best item we have ever purchased, we usually start with a more suptle clit vibe until she is ready for this, once this is placed on her clit there is no turning back ,she just cannot help herself and explodes into an intense orgasm very very quickly, we cannot get any further than 3 or 4 on the speed ,last time we used this I removed it from her clit twice to 3 times to build her to orgasm and it worked perfectly when she came believe me she was more than ready and literally came so hard she was so exhausted afterwards and nearly ripped my cock off ,which she was stroking as she came, WOW, It truly is wonderful to see a beautiful willing woman enjoying herself and orgasm so quickly and so intensely right before your eyes, I/we totally recommend this product, best money we have ever spent. No woman( my wife tells me) will be able to stop her orgasm once this is placed on her clit, no one trust me.my wife cannot for one second hold back her orgasm with this toy and she knows it, It is the perfect product which we go for almost immediately we start to have sex.

---
| | |
| --- | --- |
| Australia Post | $9.95 |
| Courier | $12.95 |
| Express Post | $14.95 |
| Orders over $99 | FREE |
---
Naughty Boy® is Australia's largest male pleasure store! Check out our video overview below or hit up the old school text link HERE
---