Date Posted: 10 October 2016
Let's Talk About Prostate Massagers
Anyone familiar with sticking things up their butt can tell you that it feels good, it's fun and you can end up having one of the best, most mind-numbing orgasms imaginable. It's time to stop associating "butt stuff" as something un-enjoyable and taboo and it's time to start putting things in your butt.
The prostate is a walnut-sized gland located between your bladder and penis, it's filled with a whole bunch of nerve endings, making it super sensitive and when it gets stimulated, you have a higher chance of experiencing a stronger, longer lasting orgasm. The more the prostate is stimulated, the better the orgasm.
If you're new to anal play but terrified of going straight into straddling a 16-inch double-ended dildo, a prostate massager is the best and safest place to start. Massagers come in a bunch of different shapes and sizes, some can vibrate, some can be used for temperature play and some can even be used to book an Uber … not really, but wouldn't that be sweet?
Prostate Massagers are wonderful male sex toys, although they can come in a variety of shapes and sizes, all massagers are designed with very similar attributes – they have a flared base (in case your butt decides it wants to swallow the toy), the tip is usually larger than the shaft to give extra stimulation and they all provide you with different levels of enjoyment.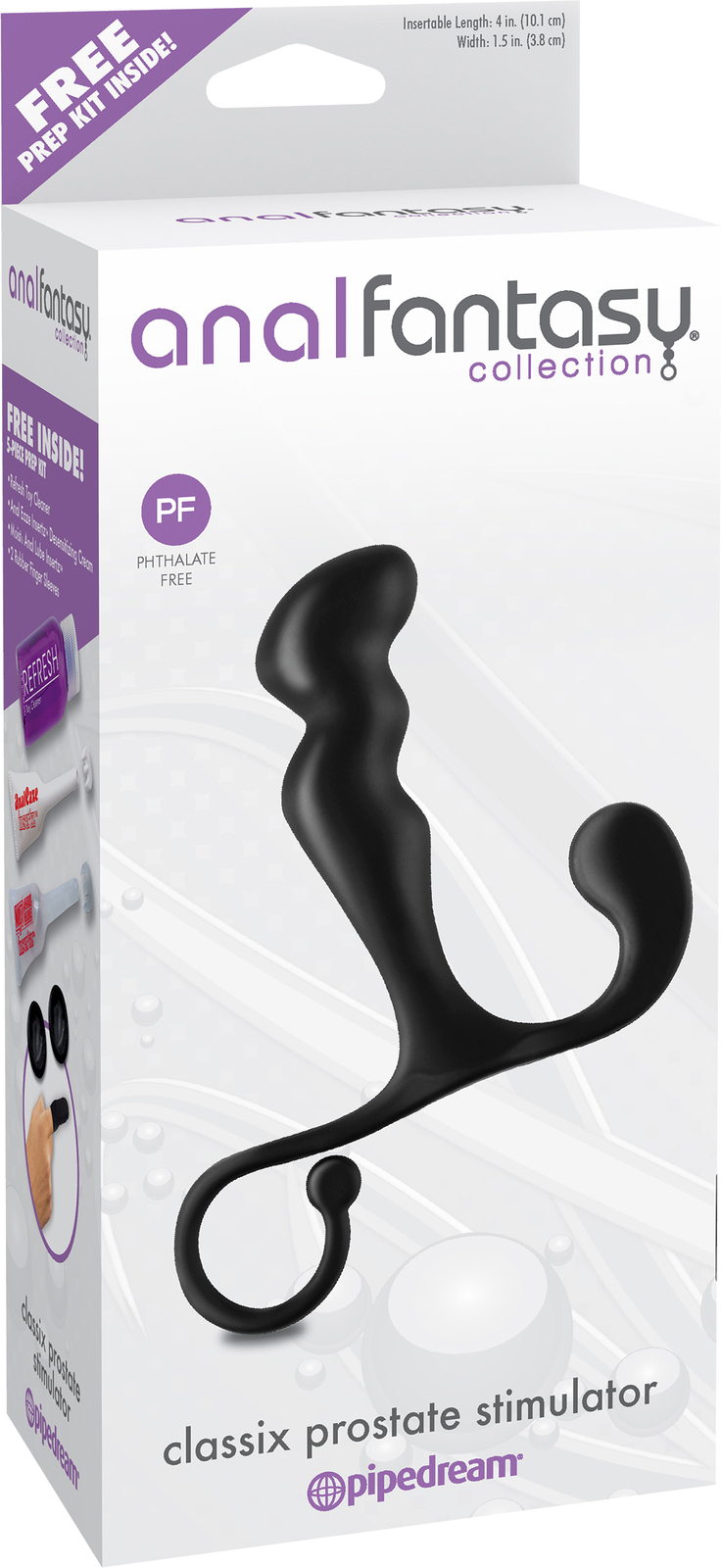 For first-timers, I'd suggest you pick up the Anal Fantasy Classix Prostate Massager by Pipedream, it's the perfect way to introduce yourself to anal play and prostate stimulation. The Classix has an insertible length of 4-inches and a diameter of 1.5-inch making it the perfect plug to find out just how enjoyable stimulating your prostate can be. It's best to use this guy by positioning the outer rounded nub against your perineum (the area between your butthole and your balls) and slowly inserting the tip until the base hits your skin.
Some wriggling around may be required to align it with your prostate and once you've hit it, you'll feel like you're pushing into something hard, don't push too hard, just enough to enjoy it. For further stimulation, it's best to try sitting on the massager and moving your body around, the sensations brought on by this will blow your mind. Being part of Pipedream's Anal Fantasy collection, what makes the Classix even better is that it comes with a five-piece prep kit that includes lube, anal desensitizing cream, toy cleaner and two finger sleeves so your first time at prostate stimulation is even more enjoyable.
Another massager for beginners I would suggest is the O-Boy by Rocks Off. This guy is another massager that's a pretty average size with an insertable length of 5-inches, a diameter of 3.6-inches and a flared base that tickles your perineum with slightly raised nodules. The thing that takes the O-Boy a step above the Classix is the 7-speed vibrating bullet located inside the flared base. Three intense vibration speeds and four incredible patterns provide extra stimulation to the prostate and you'll be finished in no time. I've had this guy in while writing this article and even on the lowest setting I've found it difficult to concentrate at times.
Now that you've enjoyed some massagers to kick yourself into the realm of more of an experienced player, you should check out the Aneros Progasm Clear Ice Prostate Massager. With an insertable 4.5-inch shaft that features three different sized girths measuring in at 1.25, 1.30 and 1.52 inches this guy is enjoyable at every single point. The Kundalini "K-Tab" that splits at the base into two round baubles is designed to stimulate the perineum and the outside of your butthole, adding extra sensations to each movement you make while the Progasm is inserted.
The thicker design of the Progasm adds to the stimulation your prostate receives while inserted. In use, the sensations of the bulbous tip massaging against your prostate are intense, rocking back and forth will bring you closer to the edge and if you're looking for a massager to try out milking your prostate, this guy is the perfect answer. For the best results, insert the Progasm lying on your side, once you've hit the prostate begin to move it with your hands, take your time and slow down your breathing. The more you concentrate on the sensations, the easier it is to build up the orgasm. You'll know you've experienced one of the greatest orgasms of your life when you ejaculate without even touching your dick, don't expect this incredible feeling the first time you try it but when you've worked at it a few times, you'll be exploding before you know it.
Now, go forth and enjoy incredible orgasms courtesy of some of the best toys we stock here at Naughty Boy.
This guide was contributed by Xander from Gay In The Middle – a blog designed to help gay men overcome their doubts and fears of sex toys and to embrace what gets them off.
---
Leave a comment