Erotic electro-stimulation is a popular way for men and women to enjoy better sex both solo and with a partner. Unlike vibrating and rotating sex toys, electro sex toys directly stimulate the nerve endings in the erogenous zones, creating sensual tingles and deep contractions in the pelvic floor that can lead some people to a hands-free orgasm. The ElectraStim range of stimulators and sex toys was designed with every kind of lover in mind. From dildos and prostate stimulators to electro spanking paddles and pinwheels, our range of erotic products caters for sex toy fans and BDSM players alike. Discover a new way of satisfying yourself and your partner with the throbbing, orgasmic thrill of ElectraStim sex toys.
---
2 Related Content Found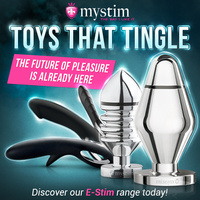 Date Posted: 16 May 2016
Discover E-Stim Sex toys with MyStim! If you've never heard of E-Stim sex toys, don't worry, you're not alone! E-Stim is an amazing new technology taking the adult world by storm. Instead of using traditional vibration motors as stimulation, E-Stim sex toys use mild electrical currents to provide earthshattering stimulation to your most sensitive spots! E-stim is short for electrical stimulation and in the past couple of years, it has become more and more popular. That's not really surprising: There are quite a lot of nerves in your private parts - man
---
Shock Therapy by Fetish Fantasy (by Pipedream products) is one of the most popular E-Stim (or Electro Stim, or even Electo sex toys) on the market today! If you have never tired this titillating form of pleasure, one of these beginners kits is sure to give you a shocking good time! Don't be fooled! These products are not designed to hurt or injure, rather they provide subtle electro vibrations to your love muscles, forcing them to contract involuntarily with every pulse. Many find the combination of E-Stim & a human touch simply too much to tolerate, resulting in mind blowing intense orgasms!
---