Date Posted: 29 November 2015
Blewit Male Masturbator lands at Naughty Boy Australia!
The NBA offices were dizzy with excitement in anticipation of the new BLEWIT male masturbator product! Finally, it has landed today in a whirlwind of suction power!!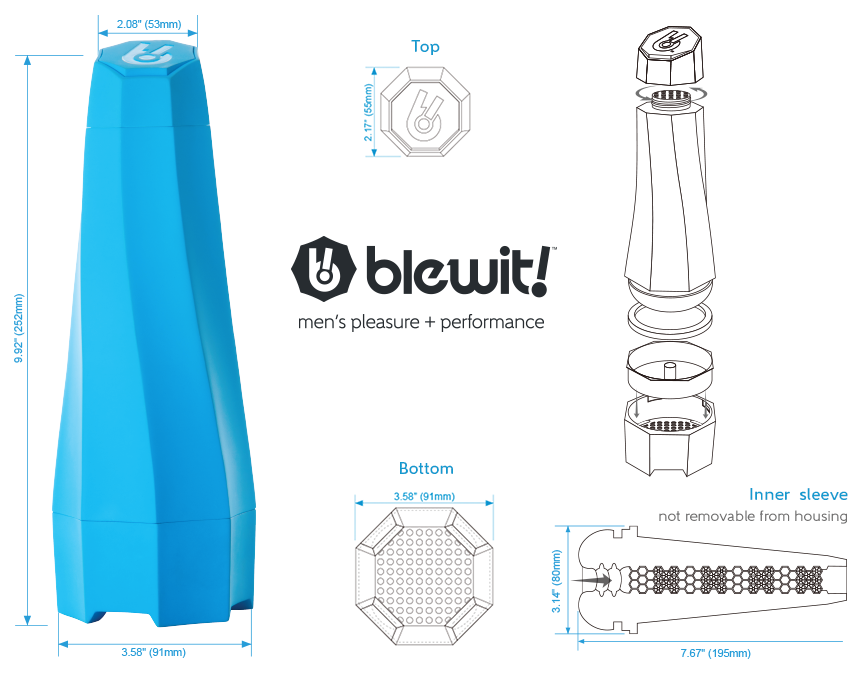 The Blewit is unlike any male masturbator you already know or use, as it's unique octagonal design makes it a true pleasure to use & hold in either hand!

Blewit is a patented product that was designed to perfectly simulate intercourse and enhance a user's overall sexual health. The twisted octagon shape creates an ergonomic fit for both left and right handed users and hands of all sizes, and the skinsoft sleeve is multitextured for
enhanced stimulation. Blewit has a top cap with quickflip suction control and an air tight seal that creates a vacuum like suction, and also includes two inner rings so users can adjust the product to their desired tightness. "We're excited to present our product to people, but we're also looking to spark a larger conversation about masturbation and sexual health," said CT Schenk. Blewit's founder and CEO, who has more than ten years of experience in the industry and was the first winner of the XBIZ Chief Executive of the Year award. "As a sex positive consumer event with a focus on education and open communication, SHE is the perfect venue for us."
About Blewit : Team Blewit aims to challenge harmful ideas about sexuality in our society by creating products that enhance sexual health, performance, and pleasure, and creating a community that welcomes open, honest, and real conversations about sex, health, and relationships. Their first product is launching this summer, and you can learn more at Blewit.com and follow them on Twitter, Facebook, and Instagram.
Browse Blewit Male Masturbator now!
---
Leave a comment