Dildos & Dongs are sex toys characterized by a striking similarity to the male penis. However, for more "extreme" designs the similarities end there! With many devices including extra special features (like vibrating functions of even WiFi control!), the role of the dildo and dong in the modern age has become more varied. Regardless of your preference for size or features, inserting one of these products inside yourself or your lover will no doubt provide waves of orgasmic pleasure.
---
1 Related Content Found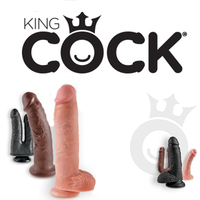 Date Posted: 13 October 2015
Naughty Boy Australia welcomes KING COCK by Pipedream Products! If you've got a craving fit for a King.. it's time to upgrade your dildo to a KING COCK ! This amazing collection of dildos has made its way into NBA HQ, and there were more than just a few flustered faces upon first inspection of these bad boys!
---