Vulcan is the name given to a premium collection of male sex toys designed to satisfy every type of stroking desire you will ever have! When your hand simply won't do, it's time to consider sliding yourself into one of these amazing reusable masturbators and experiencing wave after wave of orgasmic delight! Here at Naughty Boy we are proud to offer both conventional and vibrating models, sold individually or as packs, to ensure you arrive every time!
---
1 Related Content Found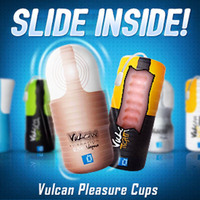 Date Posted: 22 January 2016
Vulcan Male Sex Toys Land At Naughty Boy Australia! The erotic world of men's sex toys just keeps exploding, and when you find yourself experiencing the ultimate pleasure of a Vulcan male masturbator, you will too! Designed from the ground up to be the ultimate in male sexual release, the premium Vulcan sex toy range features 18 perfectly crafted pleasure cups, each individually designed to bring your love wand maximum pleasure.
---