Wicked Masturbation Cream 120ml
Discover why CREME is our top selling masturbation cream
---
---
The Wicked range of premium personal care products are rapidly growing to be some of Naughty Boy's top sellers! If you've experienced the "tacky" nature of cheaper creams & lubes, do yourself a favour and get a little WICKED toinight!
For those in need of a premium solution for masturbation assistance, look no further than WICKED! This beautifully presented formula will be enough to satisfy your solo desires long into the night, even when only using a tiny amount!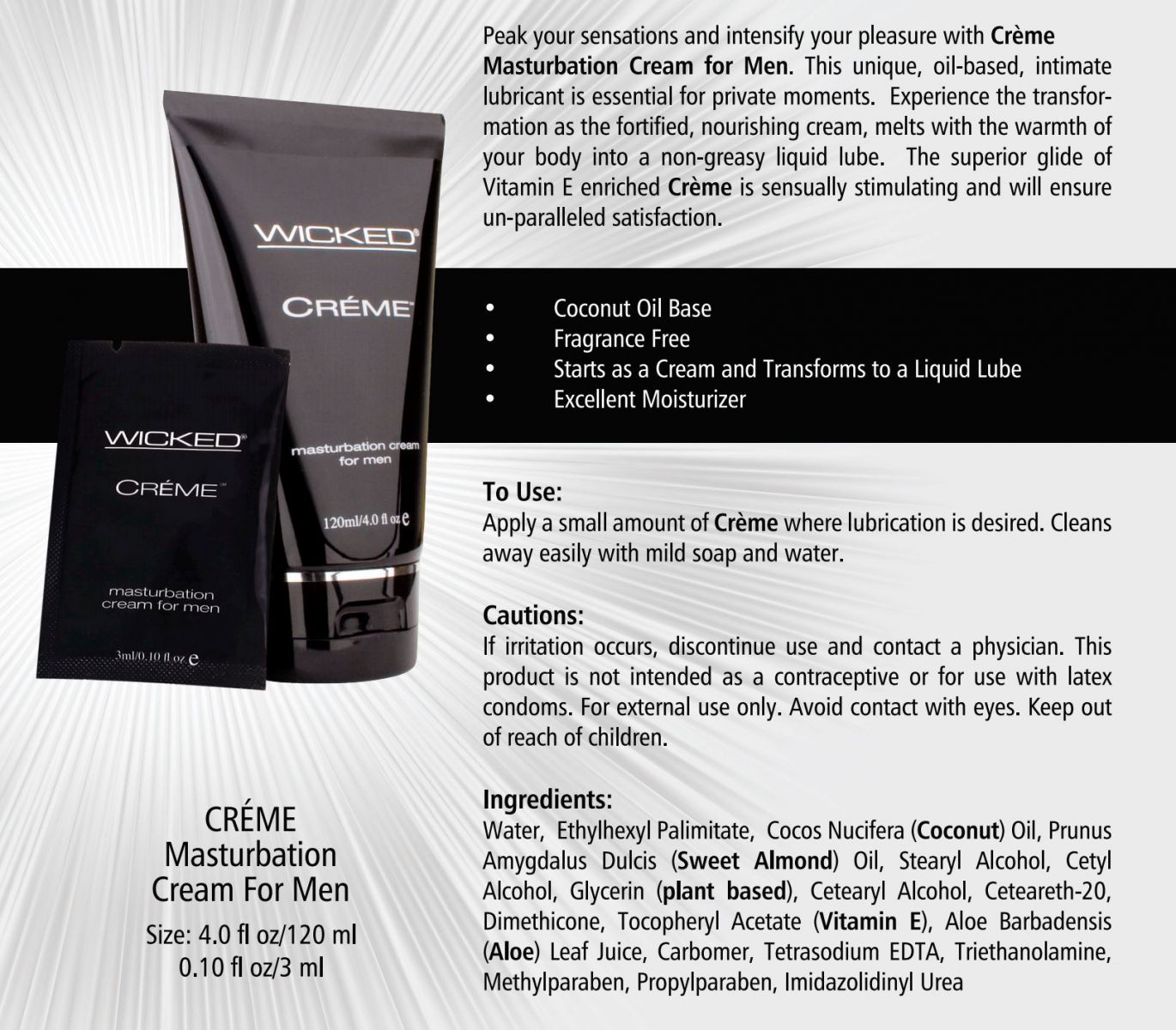 Peak your sensations and intensify your pleasure with Creme Masturbation Cream for Men. This unique, oil-based, intimate lubricant is essential for solo play.
Experience the transformation as the fortified, nourishing cream, is activated with motion and melts with the warmth of your body into a non-greasy liquid lube. The superior glide of Vitamin E enriched Creme is sensually stimulating and will ensure un-paralleled satisfaction.
- Long lasting
- Never Sticky
- Fragrance Free
- No Animal By-products or testing
To Use: Apply a small amount of Creme where lubrication is desired. Absorbs completely for moisturising benefits or cleans away easily with mild soap & water.
Cautions: If irritation occurs, discontinue use and contact a physician.
Being oil based, this product is not intended for use with latex condoms or sex toys.
For external use only. Avoid contact with eyes. Keep out of reach of children.
Post
Add a comment / review or question. We read everything!
Utterly Amazing

(5)

By: Hung on 28 August 2018

If you've been wanking for hours.. and hours.. and hours.. well you get it lads ;-) You need to upgrade to this shit. Don't let your dick swell up the next day.

Better than spit

(5)

By: Mitch on 26 April 2017

Ok I don't use spit.. but this is awesome stuff. I don't usually lube up at all to be honest for a quick squirt but if I'm feeling ultra horny I just rub a bit of this on me old fella and work it in. For $20 it's a great thing to keep in your bed side table for when your misses is out.

Excellent

(5)

By: Pete on 5 February 2017

This is great. I've never used lube to wank before, but this is really awesome. Thick & creamy so it won't go anyway (like lube would) and 100% worth it. I wasn't going to get this but so glad I did.

Loved it

(5)

By: Tom78 on 8 November 2016

This is some very nice stuff indeed. Far better to use solo than traditional lube because it's much richer. I was very impressed with the thickness of this product & would recommend it to anyone who was interested in something a bit nicer to stroke with. Well done to Wicked.

Wonderful

(5)

By: Simmo on 11 October 2016

Very relaxing and you need only a tiny drop to go for ages. I had no idea you could even get something just for this. Now I don't really want to jerk it without (but don't worry I still do!)

This is excellent

(5)

By: Adam on 30 September 2016

Love this stuff. So much better than using nothing or spit. Very nice design & premium product.

So good.

(5)

By: Tommy on 26 July 2016

This stuff is the goods. Lasts for ages, no smell, cool bottle.. easy to keep in top drawer. Thumbs up from me.

So good.

(5)

By: Tommy on 26 July 2016

This stuff is the goods. Lasts for ages, no smell, cool bottle.. easy to keep in top drawer. Thumbs up from me.

NICE

(5)

By: PunJah**118** on 18 June 2016

Never knew this was an actual "thing". It's awesome and it looks like just face wash or something. I keep it next to my bed now for XTube time. Really good product. Thank you for reading my review.

Really good for slappin it

(5)

By: Sam_PP78 on 14 May 2016

I got this a few days ago and really like it. Much better than using standard lube when waking. It doesn't have any smell either.. Like none. Sometimes lube try to hard to smell nice. This seriously has no smell. Anyway yeah it's good. Gonna try the other ones now to see what's the best. Really like this.

nice product

(5)

By: Timbo on 4 May 2016

Really creamy consistency and then really doesn't come off for ages. They seem to be pushing this stuff hard here so I gave it a go. Happy customer for this one!

Better than lube

(5)

By: Jon*78* on 2 May 2016

This shit is awesome. Super slippery and I can jack for ages without needing to keep adding more like actual lube. The bottle will last you for ages and ages. Only need a drop. I put way too much on but you know meh.

AWESOME!

(5)

By: Brian on 24 April 2016

This is the best stuff I've tried hands down! After massaging it for a while, it seems to get thicker & creamy while you use it. Awesome value for money too because I used the tiniest amount & didn't need to add any more. LOVE IT.

---
| | |
| --- | --- |
| Australia Post | $9.95 |
| Courier | $12.95 |
| Express Post | $14.95 |
| Orders over $99 | FREE |
---
Naughty Boy® is Australia's largest male pleasure store! Check out our video overview below or hit up the old school text link HERE
---