Masturbation Cream 120ml
Discover why CREME is our top selling masturbation cream
---
The Wicked range of premium personal care products are rapidly growing to be some of Naughty Boy's top sellers! If you've experienced the "tacky" nature of cheaper creams & lubes, do yourself a favour and get a little WICKED toinight!
For those in need of a premium solution for masturbation assistance, look no further than WICKED! This beautifully presented formula will be enough to satisfy your solo desires long into the night, even when only using a tiny amount!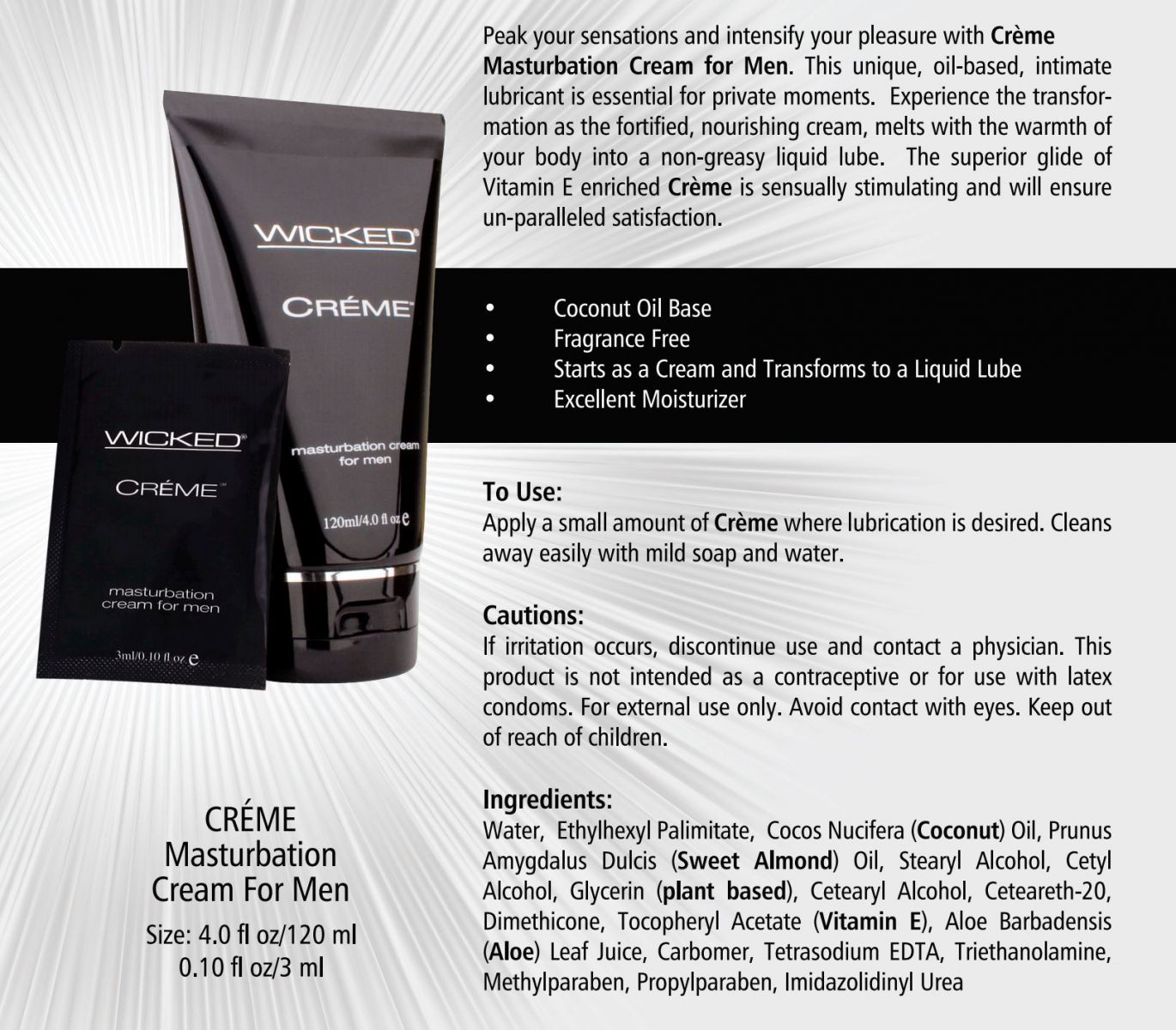 Peak your sensations and intensify your pleasure with Creme Masturbation Cream for Men. This unique, oil-based, intimate lubricant is essential for solo play.
Experience the transformation as the fortified, nourishing cream, is activated with motion and melts with the warmth of your body into a non-greasy liquid lube. The superior glide of Vitamin E enriched Creme is sensually stimulating and will ensure un-paralleled satisfaction.
- Long lasting
- Never Sticky
- Fragrance Free
- No Animal By-products or testing
To Use: Apply a small amount of Creme where lubrication is desired. Absorbs completely for moisturising benefits or cleans away easily with mild soap & water.
Cautions: If irritation occurs, discontinue use and contact a physician.
Being oil based, this product is not intended for use with latex condoms or sex toys.
For external use only. Avoid contact with eyes. Keep out of reach of children.
In order to drastically increase our product range and allow for faster delivery around Australia, your order may come from multiple warehouse locations. Shipping is charged at $11.97 per warehouse location.
Naughty Boy® is Australia's largest male pleasure store! Check out our video overview below or hit up the old school text link HERE
---
---