Fantasy For Her Tease n Please-Her
SAVE $57.00 (36%)
Use WINTER coupon and pay only $89.95
Members earn $5.00 store credit
Login to your account to start earning rewards!
(!)
---
Request price beat coupon code
If you've seen this product cheaper elsewhere online, we will beat the price by 10%
Important stuff: The website link must be Australian and display an active ABN: Read terms & conditions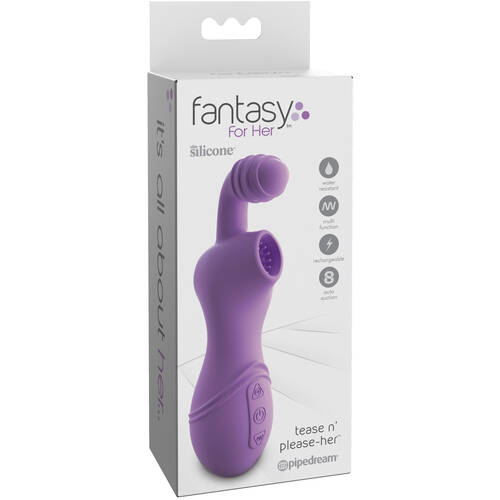 Fantasy For Her Tease n Please-Her
Model:
NBA-PD4924-12
Naughty Boy Price: $99.95
Competitor Price: $0.00
10% Discount: $0.00
FINAL PRICE: $0.00
Coupon: $0.00
Sending...
Some error occurs, please check your input data!
---
She slowly slid down her panties and laid back on the bed. Finally. This was her time. She had been fantasizing about using her tease n'please-her all day. She turned it on and tried to decide if she should play with the vibration or suction first. Vibration. Yes, she nodded and pressed on the vibration button to start. She stroked herself from her sensitive clit through her swelling lips and down to her moist vagina with the trembling tip of her tease n'please-her. She pressed the vibration button again to intensify the stimulation. Ahhhhhh, she closed her eyes as she felt herself getting wetter and wetter in response to the arousing vibration. She pressed again and again to enjoy all 12 vibration patterns between her lips, and then slowly slid the tip into her yearning vagina.   She opened her heavy-lidded eyes that reflected the euphoria she was enjoying and cupped her clitoris with the suction cup end of her tease n'please-her. She pressed the suction button and her clit was surrounded with the feeling of delicious oral sex as the tease n'please-her pulled, tugged, and milked at her swelling bud. She kept pressing the suction button until she reached her favorite pattern of suction. Mmmmmm, she couldn't help herself – she moaned as the tease n'please-her sucked and vibrated between her legs. The combination of stimulation was working its magic. She couldn't control herself as she caressed the inside of her thighs with her free hand as her other hand was grinding her tease n'please-her against her.   She could feel her clitoris becoming erect with the intensity of pleasure. She could feel the pulse of her orgasm building deep inside her. She wanted to release herself and be swept away within the incredible exhilarating pleasure she was feeling. She pressed the vibration button once more and that was all it took. She felt her body stiffen as a powerful orgasm hungrily roared through her body. The dual pleasures of suction and vibration had brought her to the pinnacle of fulfillment. She felt deliriously happy, incredibly relaxed and very, very sexually complete.   It's all about Her.  
---
ASK A QUESTION
Ask a Question
If you have any questions about this product, send them through and we'll be in touch soon!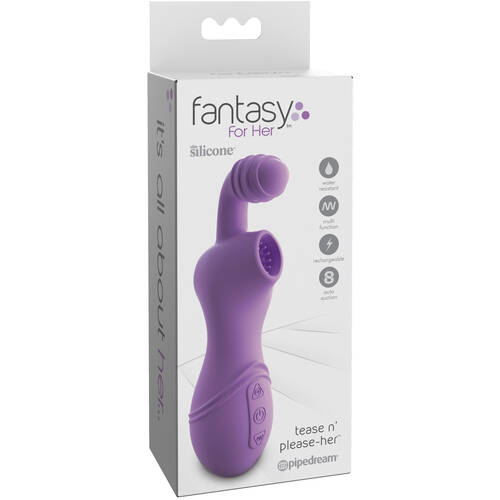 Fantasy For Her Tease n Please-Her
Model:
NBA-PD4924-12
Naughty Boy Price $99.95
---
---
Notify me when back in stock
---
Be The First To Review This Product!
Help other Naughty Boy® users shop smarter by writing reviews for products you have purchased.
Fantasy For Her Tease n Please-Her
Thank you for writing a review. By sharing your thoughts, you help website visitors make a better purchasing decision. In addition, your feedback helps us to improve our products and service.